Description
FAR KJ21 Rivet Nut Tool Kit
The FAR KJ21 Rivet Nut Tool Kit – The hand tool has an excellent ratio amplifier making light work of setting rivet nuts (rivnuts, nutserts, threaded inserts). The kit contains mandrels required to install rivet nuts from M3 to M8. A 'must-have' for your toolbox!
Product code: 705072 KJ 21
Sets from M3 to M8 in Aluminium & Steel
Sets from M3 to M6 in Stainless Steel.
Spares & Repairs
You can buy a full range of genuine Far spares and consumables for your tool. Order these from us on-line and/or contact us for help and advice.
When repairs are required or it is time to serservice your tool , return it to us and our factory trained technicians will look after the rest.
Click here to buy spares for your threaded insert tool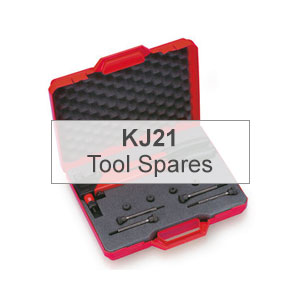 More information on KJ 21 Rivnut Tool
www.far.bo.it/en/products/riveting-tools-for-blind-rivet-nuts/hand-tools/kj21.html