Description
FAR RAC180 Heavy Duty Rivet Gun
The FAR RAC180 Rivet Gun is an industrial rivet tool with a fantastic pedigree and an ultra-reliable performance to match.
Sets rivets from Ø2.4 to Ø4.8 all materials and up to Ø6.4 aluminium
Sets structural rivets up to Ø4.8
One hand operation – rivet retained by adjustable air suction
Unique hydraulic oil refill system
Swivel airline fitting: 1/4″ BSP thread
Spring balance attachment for fatigue free operation
Mandrel collecting system with vacuum extraction
Small and light – offers flexible and ergonomic operation
Specification
Product Code: 700180
Weight: 2.05 kg
Length: 305 mm
Operating Air Pressure: 6 bar
Pulling Force: 10,526 N
Stroke: 21 mm
Package Accessories
Nosepieces for 2.4mm, 3mm, 4mm, 4.8mm and 6mm rivets
5mm Allen wrench
Hydraulic Oil Bottle
Airline Fitting
Operating Manual
Spares & Repairs
You can buy a full range of genuine Far spares and consumables for your RAC 180 rivet gun. Order these from us on-line and/or contact us for help and advice.
When repairs are required or it is time to service your rivet gun, return it to us and our factory trained technicians will look after the rest.
Click here to buy spares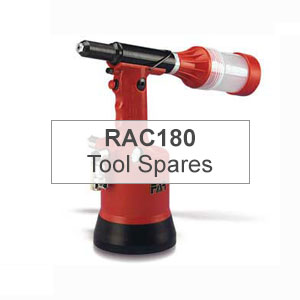 FAR Video Media
Top Up The Oil
More information about the RAC 180 Rivet Gun