As a leading stockist and distributor of POP Avdel Riveting Tools we offer you the very latest in fastener setting technology. POP Avdel manufacture flexible, cost effective tools that can reduce your installation costs, increase your productivity and consistently set a wide range of fastener solutions.
Select from a class leading range of pneumatic & battery Avdel tools,  Avdel POP Rivet Guns, Pneumatic Rivet Nut Tools, lockbolters & Speed Fastener guns. These are the go to tools for high volume assembly applications in motor body building, fabrication, manufacturing, maintenance & repair work. They will not let you down!
We supply POP Avdel Tools at the most competitive prices in the UK. Please contact us today for friendly expert advice and a quotation.
POP Rivet Nut Tool – Avdel Rivet Nut Tool (POP Rivet Tools)
POP Avdel Riveting Tools – Fastening Systems
POP Avdel – Two iconic brands have joined forces and together they now produce the largest and most diverse range of specially engineered structural and non-structural blind fastening systems in the world. Contact us for more information or a quotation on:
Speed Fastening® Systems
Breakstem Systems
Lockbolt Systems
Blind Threaded Inserts
Pierce Rivet Fastening Systems
Sealing Plugs
Installation Equipment and Assembly Stations
You can obtain further information on POP Avdel Fastening Systems, POP Rivet Tools & Avdel Tools please at:
www.stanleyengineeredfastening.com/brands/pop-avdel
Avdel® Innovative Fastening Solutions
Avdel® offers the widest range of blind fasteners and tooling in the market. In fact, POP AVDEL products are so pervasive that just about every manufactured product has, at some time, been assembled, fastened or touched by Avdel® technology.
Blind Fasteners
Sometimes called breakstem fasteners, Avdel®'s premier fastening system offers multi-grip performance, consistent installation, and high-speed, high-performance assembly.
Non-Structural Blind Fasteners
Speed Fasteners
Rapid and reliable, Avdel® Speed Fastening technology offers benefits over conventional mechanical assembly systems.
Lockbolts
Designed for high-strength assembly, our two-piece lockbolt systems form joints capable of withstanding the toughest applications and environments.
Threaded Inserts
Dependable low cost system for inserting high quality, load bearing threads in thin materials.
Assembly Systems
Automated assembly systems can dramatically reduce assembly time and costs whilst improving consistency of placing. Customized systems can be designed for virtually any application or assembly environment.
Self-Piercing Rivets
Self-piercing rivets are excellent for joining dissimilar materials, pre-coated sheets or layered materials. Pierce and fasten in one operation, eliminating need for insertion holes and alignment.
Portariv® Pierce Riveting System
Material and Surface Finish Standards
Abbreviations we use to denote the basic requirements for steels, aluminium alloys and copper alloys used in the manufacture of Avdel® fasteners. Each standard contains a list of grades available.
Avdel® Material and Surface Finish Standards
Inventor of the Blind Rivet
There's a reason Pop's name is synonymous with blind rivets, POP® was the original manufacturer of this innovative design. Today, POP® continues updating and improving their products to remain a step ahead of modern assembly needs.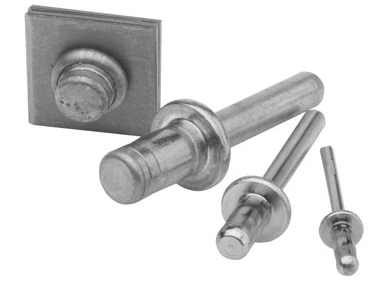 Trusted by Manufacturers Worldwide
The POP® rivet range includes a wide variety of high quality fasteners that will meet the needs of your demanding manufacturing assembly process.
The ability to set POP® blind rivets without the need for access at the back of the work piece makes their use mandatory in many instances. Their many additional advantages also make them the logical choice in numerous applications where the blind rivet setting feature is not of primary importance.
Rivets
Used in numerous applications to secure two or more components together. Their groundbreaking POP® rivet is easily installed with access only required from one side of the assembly.
Blind Riveting Systems
Hand tools, power tools, and accessories that allow you to develop blind riveting systems for specific requirements.
Automotive Aftermarket Products
Fastening solutions that help restore cars, trucks, and motorcycles back to factory condition.
POP® Product Configurator
Calculate the right fastening product for your application with our configuration tool.
FAR Tools
We are also proud to be a leading distributor of FAR Tools – FAR Rivet Guns and FAR Rivet Nut Tools. These ultra reliable class leading products have been manufactured by FAR in their factory in Bologna, Italy, since 1957. FAR tools continue to set the benchmark for industrial bind rivet & rivet nut setting tools.