We are authorised Industrial Air Tool Repair agents for FAR, Chicago Pneumatic CP Air Tools & Universal UT Air Tools. Our expert Pneumatic Tool Service and Air Tool Service technician's also Service and Repair other leading brands of Industrial Air, Pneumatic & hydro-pneumatic tools. These include Avdel, Huck, Masterfix, Scellit, CP, POP, Gesipa, Lobster, Atlas Copco & Ingersol Rand.
We offer an exceptional level of customer service & support. Your Pneumatic Tool Repair or Pneumatic Tool Service will be handled In-house quickly and efficiently. This will ensure that you are without your valuable tool for the minimum amount of time. We use only GENUINE OEM parts and will fully test your tool prior to its return.  Click here to see our pneumatic tools repair experts in action.
How The Service Works
Forward your tool together with a completed REPAIR FORM to us
We will e-mail you a quotation for the service/repair within 24 hours of receiving the tool
Having received confirmation that you would like us to proceed with the repair we will request payment & complete the work
Having been repaired and tested the tool will be returned to you via our courier service
What if my Air Tool is beyond economic repair?
If this is the case we will offer to supply you with an equivalent replacement tool 10% below our current web price. Alternatively we will return the tool to you, making a £10.00 charge to cover carriage
Please note – It is often not economical to repair budget/entry level air tools due to their low value. We would advise you to check the price of buying a new tool prior to going to the expense of returning tools of this type to us
Download Air Tool Service and Repair Form
Click here to download a Service and Repair Form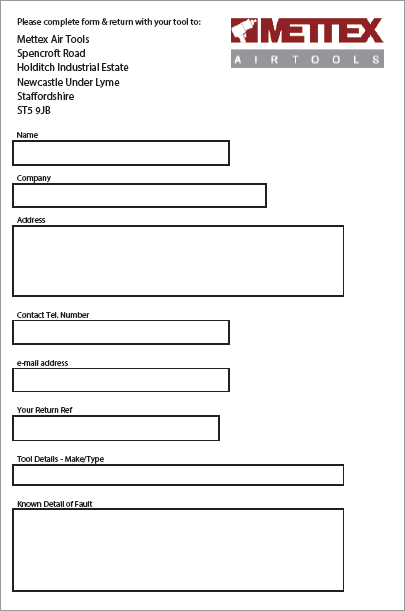 Pneumatic Tool Repair Near Me?
Yes, Mettex air tool repairs and pneumatic tool service centre is based in Stoke on Trent Staffordshire, but you can send your tool to us for its air tool service.  Download our Industrial Air Tools Service and Repair Form and send the form with your pneumatic tool.
See our Air Tool Service Experts in Action
Our In-House authorised industrial air tool repair agents are capable of fixing ANY Air Tool.  See our YouTube Channel for some simple Air Tool Maintenance advice.
Our expert Bernie shows simple maintenance such as FAR RAC180 Oil Top Up and Jaws Clean, FAR KJ60 Oil and Mandrel Change, FAR KJ45s Oil Top Up and Mandrel Change, FAR RAC181 Oil Top Up, Jaws Clean and General User Maintenance, FAR RAC171 Prime and Change Jaws and Nose Tips, and finally POP Avdel Proset XT3 Oil Prime