Description
FAR KJ45S Rivet Nut Tool
The FAR KJ45S Rivet Nut Tool is designed for high volume setting of threaded inserts in an industrial,  production environment. This powerful, ultra-reliable professional tool will set rivet nuts up to M12 in all materials. It is supplied with a complete set of nose pieces & mandrels M3 to M12.
Product code: 705082 KJ 45S
Sets rivet nuts in all materials M3 to M12
Sets blind rivet bolts in all materials from M5 to M8
Fast and simple change of mandrel and nosepiece
Automatic rivet nut wind on
Fast setting cycle with forward/reverse trigger for optimum user control
Swivel airline fitting: 1/4″ BSP thread
Quick and easy stroke adjustment
Spring balance attachment
Unique hydraulic oil refill system
Supplied in a lightweight plastic carry case
Specifications
Weight: 2.9 kg
Length: 296 mm
Operating Air Pressure: 6 bar
Pulling Force: 27,459 N
Stroke: 8 mm
Package Accessories
Mandrels & nosepieces for M4, M5, M6, M8, M10 & M12 rivet nuts
5mm Allen wrench
Hydraulic oil bottle
Airline fitting
Operating Manual
Spares & Repairs
You can buy a full range of genuine Far spares and consumables for your rivet nut tool. Order these from us on-line and/or contact us for help and advice.
When repairs are required or it is time to service your tool, return it to us and our factory trained technicians will look after the rest.
Click here to buy spares for your KJ45s rivet nut tool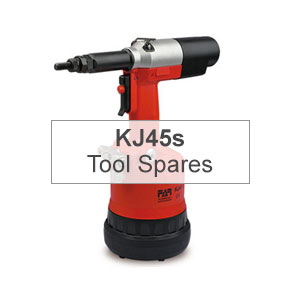 FAR Video Media
KJ45S Repair
KJ45s Assembly of mandrels and heads for setting rivet bolts..
How to refill the oil on your KJ45S…
More information on KJ 45s Rivet Nut Tool
https://www.far.bo.it/en/products/riveting-tools-for-blind-rivet-nuts/hydropneumatic-tools/kj45-s.html