Description
FAR KJ29 Long Arm Rivet Nut Tool
The FAR KJ29 Rivet Nut Tool is very strong and extremely easy to operate. Use it to set both rivet nuts (rivnuts, nutserts, threaded inserts) and male threaded rivet bolts
Product code: 705094 KJ29
Sets rivet nuts from M3 to M10
Sets rivet bolts from M4 to M8
Spares & Consumables
You can buy a full range of genuine Far spares and consumables for your tool. Order these from us on-line and/or contact us for help and advice.
When repairs are required or it is time to service your tool, return it to us and our factory trained technicians will look after the rest.
Click here to buy spares for your KJ29 nutsert tool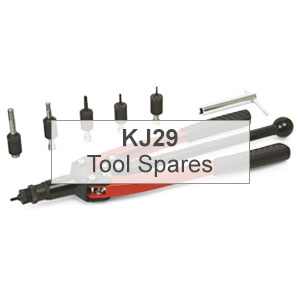 FAR Video Media
KJ 29 Set-up for intstalling rivet bolts..
Adjusting the stroke on the KJ29 rivet nut tool..
More information on the KJ 29 rivnut tool
www.far.bo.it/en/products/riveting-tools-for-blind-rivet-nuts/hand-tools/kj29.html